Introduction
With the Covid-19 pandemic nearly paralyzing the global travel and tourism industries for the last two years, Montserrat is eager to welcome back digital nomads and visitors to explore and enjoy the tranquility and beauty of this small Caribbean paradise. This blog will focus on how you can enjoy your best post-Covid life while living and working remotely in Montserrat and will highlight some important information regarding travel to the island.
Entering Montserrat in the Post-Covid Era
Travel to Montserrat at the moment is fairly straightforward and prospective digital nomads and visitors shouldn't face any major barriers to entering the country as it relates to the pandemic. As of July 11th, 2022, the Government of Montserrat has officially removed all pre-arrival Covid-19 testing requirements for travelers entering the country and has withdrawn regulations regarding mandatory face coverings in public spaces across the island. Travelers entering the country will be required to take a test upon arrival to Montserrat but will not have to pay for the test (with few exceptions). If a test comes back positive, you will be required to isolate for 10 days but you will not be subjected to further testing to leave isolation. If you want to learn more about Covid-19 regulations and current case numbers in Montserrat, please consult with the Government of Montserrat's official website.
Finding the Perfect Post-Covid Life in Montserrat
In Montserrat, you can expect a post-Covid life that will leave you feeling rejuvenated, exhilarated and never ready to leave. Here, you will benefit from a quality of life that allows you to work and simultaneously prioritize the things that matter the most to you. Whether it's an adventure, quality time with family and friends, or relaxation, Montserrat has it all! Its geography and small size, in which the island measures 16km long and 11km wide, is a nature lover and adventure seekers' paradise with the ocean and lush mountainous landscapes being accessible within minutes of logging off from work.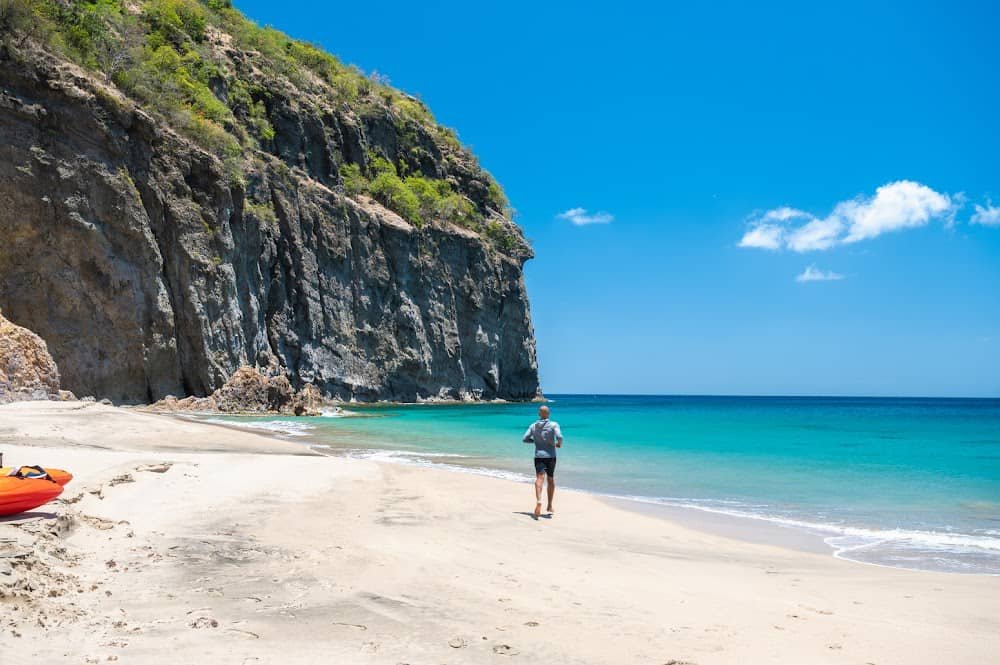 With the world reopening and streets and shops no longer resembling a ghost town, getting acquainted with crowds and large social settings can be a challenging adjustment for many. However, in Montserrat, this is not an adjustment that you have to worry about as the island holds a small population of only 5000 residents so major crowds are unlikely in this Caribbean gem making relaxation and the ability to disconnect easier than ever. Montserrat is well known for its serene solitude so it is likely that you will have the opportunity to experience places on the island by yourself or in the company of family and friends on any given day.
Enjoy an Adventure Off the Beaten Path
There is so much to see and do in Montserrat and the island has a unique history and culture which makes exploring its landscapes unlike any other destination in the Caribbean. For one, Montserrat has something that nearly all others lack – a capital city buried by a recent volcanic eruption. The Soufriere Hills volcano erupted in 1995 and completely buried the former capital city of Plymouth in 39 feet of pyroclastic mud and ash, and left nearly two-thirds of the entire island uninhabitable. Today, you can visit the Caribbean Pompeii with one of the island's designated tour operators and experience a piece of Montserrat's history first-hand. You can also enjoy breathtaking views of the Soufriere Hills volcano from a variety of other safe viewing points and hiking trails across the island so you can appreciate this volcanic masterpiece whenever you want.
While volcano viewing ranks among some of Montserrat's top activities and attractions, there is still so much more to experience on the island, including a remarkable culinary scene that boasts a blend of Caribbean and international cuisines, world-class scuba diving, wildlife viewing, and a local culture that is world-renowned for its hospitality and lively culture with a wide array of celebrations and festivities held throughout the year. In addition, Montserrat is unique to other destinations for its non-commercial character, meaning that you will only find locally owned restaurants, hotels, and businesses on the island, making it truly feel like you are living in a different world.
Work Remotely in a Tranquil Paradise
Montserrat currently offers digital nomads the possibility to work remotely on the island for up to 12 months under the Montserrat Remote Workers Stamp. Working remotely in Montserrat doesn't have to mean brushing off your regular professional responsibilities or giving up your career to travel, instead it allows you the ability to disconnect freely and reconnect with nature, yourself, and those who matter most to you. In Montserrat, taking a break can be as simple as walking along the beach or taking a moment to admire the island's natural beauty and calming sounds of the ocean and forest from the comfort of your home office. The island is gaining increasing popularity among the digital nomad community and is an ideal destination for both solo travelers and families with easy access being granted to participants in the Remote Workers Stamp in essential services such as banking, telecommunications, education, and healthcare.

Conclusion
As a remote worker in Montserrat, you can expect more time to breathe and less time to stress. With the world transitioning back into normalcy after the pandemic, it can be easy to revert to old habits of overworking and neglecting self-care, but post-Covid life in Montserrat offers digital nomads an opportunity to ditch these habits once and for all. Life in Montserrat is as laid-back as it gets and there is never a shortage of activities and fun to experience.