Introduction
The onset of the COVID-19 pandemic increased the need for people to find more flexible and alternative ways of working. Across the world, offices had to close to comply with government measures to reduce the spread of infections, and employees had to work from home. As a result, many professionals re-examined the traditional paradigm of working from a fixed, specific location, and embraced the opportunity to travel while maintaining consistent employment.
Today's professionals no longer face constraints of borders, and, once in possession of a laptop and an internet connection, can focus on building careers from wherever in the world they choose. Nowadays it is not only digital nomads who travel the globe while working – everyone can make the choice to embrace the adventure of remote work.
CLICK HERE TO DISCOVER HOW TO WORK REMOTELY FROM MONTSERRAT!
For those who are already working remotely, why not choose to be surrounded by beautiful landscapes? Many destinations are offering special remote work visas to those who want to work from stunning locations and explore new places while working. Here, we will present some of the remote work visas available in the Caribbean region, and what makes the Montserrat Remote Work Stamp a cut above the rest!
The Concept of the Digital Nomad
The term "digital nomad" refers to people who have chosen to embrace a lifestyle that is location independent and make the most of technology that allows them to travel while working remotely. The COVID-19 pandemic caused many members of the workforce to reexamine their priorities and strive to attain a more improved work-life balance. The digitally nomadic lifestyle offers a number of advantages, and shows no sign of losing its popularity. Here are some the reasons that this lifestyle is appealing:
More companies are creating policies that provide employees the opportunity to work remotely
Families are choosing to take advantage of the digital nomad lifestyle, as they are prioritising the chance to see the world and make lasting memories
A wider range of products and services have evolved to support this nomadic way of life, such as online job sites, coliving & coworking paces, and relocation concierge services
There has been a shift in values, and people now embrace the chance to experience new cultures, be productive, and work wherever they want to, rather than choosing a traditional 9 to 5 job
Many countries have created special visa programs to cater to digital nomads and remote workers
A Summary of Remote Work Visas Available in the Caribbean
Here are some of the islands in the Caribbean have created remote work visas:
Antigua & Barbuda: The Nomad Digital Residence (NDR), allows remote workers and their accompanying family members to join them in the country. An annual income of USD $50,000 is required, and individuals must either own a location-independent business or work remotely for a company located outside of Antigua and Barbuda.
Anguilla: The British territory of Anguilla has their own special visa for digital nomads who would like to "work from home". It takes 7 to 14 days for an Anguilla digital nomad visa to be processed, and it is valid for 1 year.
Aruba: This visa is referred to as "One Happy Workation", and allows stays of up to three months. The application requirements are fairly simple and no proof of income is required. Conditions include a 90-day limit on stays in Aruba and applicants must be self-employed or employed outside of the country.
Bahamas: The Bahamas Extended Access Travel Stay (BEATS) permit is offered for workers and students. Qualified individuals may spend up to 12 months in the country, and the permit can be extended for up to three years.
Barbados: The Barbados Welcome Stamp gives foreign work visitors the ability to work remotely from Barbados for up to 12 months. To qualify, applicants must earn at least USD $50,000 per year and must demonstrate adequate health insurance coverage.
Bermuda: The Work from Bermuda Certificate that allows certain students and business professionals to work or study remotely in Bermuda. The certificate permits a 12-month maximum stay, with extensions available on a case-by-case basis.
Cayman Islands: The Cayman Islands launched a special visa for digital nomads called the Global Citizen Certificate (GCC). It allows travelers to stay in the islands for up to 2 years. Individuals must provide proof of an annual salary of at least $100,000, or $150,000 for couples.
Curaçao: The At Home in Curaçao program allows remote workers to live on the island for six months with the option to renew it for another six months.
Jamaica: Applicants for a Jamaican work visa must prove that they are either self-employed or work for a company located outside of Jamaica. A U.S. passport is required, and there are no minimum income requirements.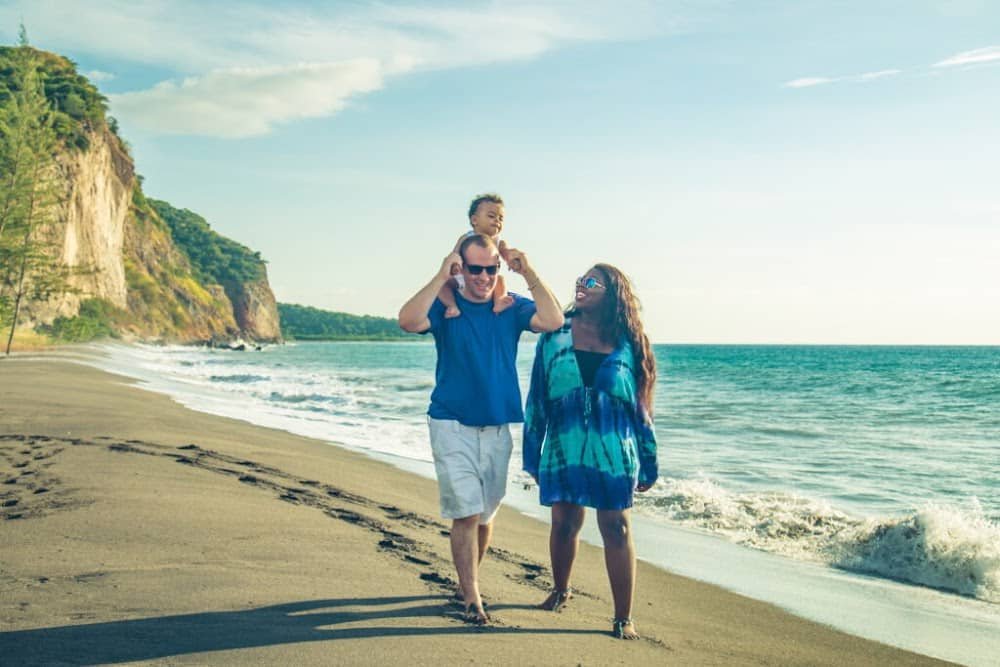 What Sets the Montserrat Remote Workers Stamp Apart
Not only does the Caribbean island of Montserrat possess lush landscapes and unique culture, it also has a truly warm and welcoming population. It is therefore the ideal destination for those seeking to find adventure off the beaten path, while embracing the amenities offered and the ability to work remotely. Montserrat's unique appeal is heightened by the way it balances modern conveniences with old-world charm, which in turn creates a better quality of life.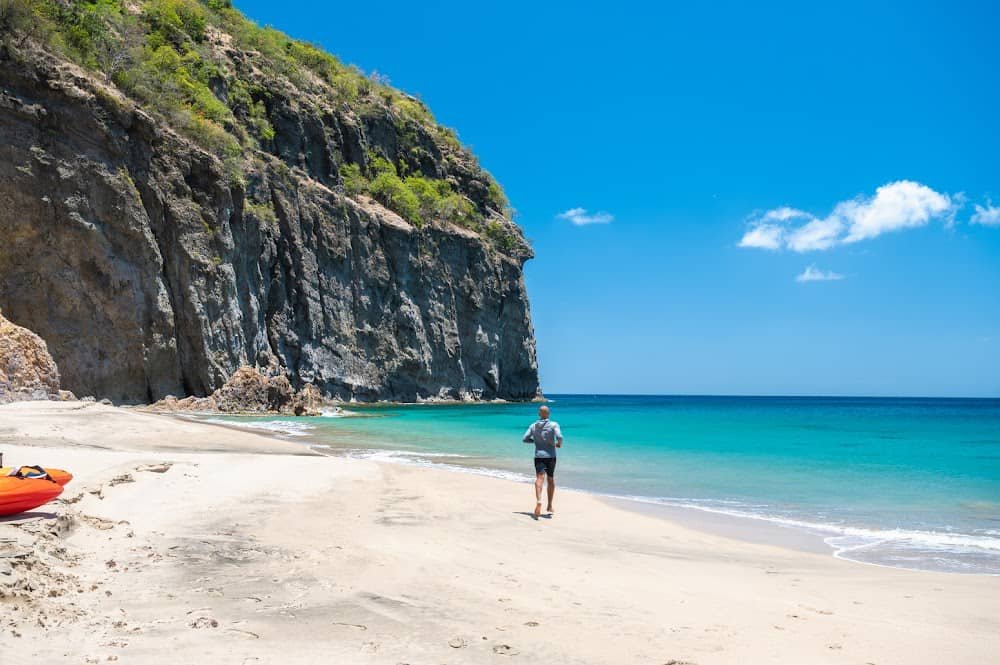 Montserrat introduced their digital nomad visa, also known as the Remote Workers Stamp, in January 2021. Here are the features of this visa program and living in this Caribbean destination that make it stand in a league of its own:
Easy and efficient application process: You can apply online, and once your application is fully complete and you have included all of the necessary documentation, the processing will begin within 24 hours. Your Stamp will be processed and confirmed or denied in 7 business days. If you have any issues or queries, you can reach out at info@montserrattourism.ms
The opportunity to be a part of an island-wide extended family: Previous recipients of the Remote Workers Stamp have expressed the extent to which they felt warmly welcomed and supported as remote workers and digital nomads. They all consider themselves to have become valuable members of the Montserrat family, and spoke of ways the locals have helped them to settle into their new homes and surroundings. There was no shortage of helpful advice and tips, many of which came in the form of vibrant WhatsApp groups supplying pertinent information at the touch of a button.
Superior wi-fi connectivity: Montserrat boasts a consistently stable internet connection, and the already reliable high-speed connectivity was improved even more by the completion of the Montserrat Subsea Fibre Optic Project two years ago.
Affordable cost of living: Montserrat is one of the most affordable places in the Caribbean to live. There is a wide variety of delectable local produce to choose from, and even imported items are relatively affordable. However, buying local food has the added advantage of contributing to sustainability and strengthening the local economy. There is also the added advantage of providing the experience of tasting delectable fresh fruits and vegetables!
Safety: Along with being affordable, Montserrat is ranked as one of the safest places in the Caribbean to live. This safety is not just in terms of a remarkably low crime rate, but also in terms of the extremely low rates of COVID infections, especially in relation to global and regional statistics.
Conclusion
Opting for the Montserrat Remote Workers Stamp has some clear advantages over some of the remote work visas being offered in the Caribbean region.
CLICK HERE TO VIEW THIS WEBINAR ON THE MONTSERRAT REMOTE WORKERS STAMP!